Trainings
Six Rivers staff and volunteers bring a breadth of skills and expertise to our trainings. 
We offer a 40-hour basic mediation training in the spring and the fall. We are always willing to work with you to develop a customized training to meet your situation and personalities.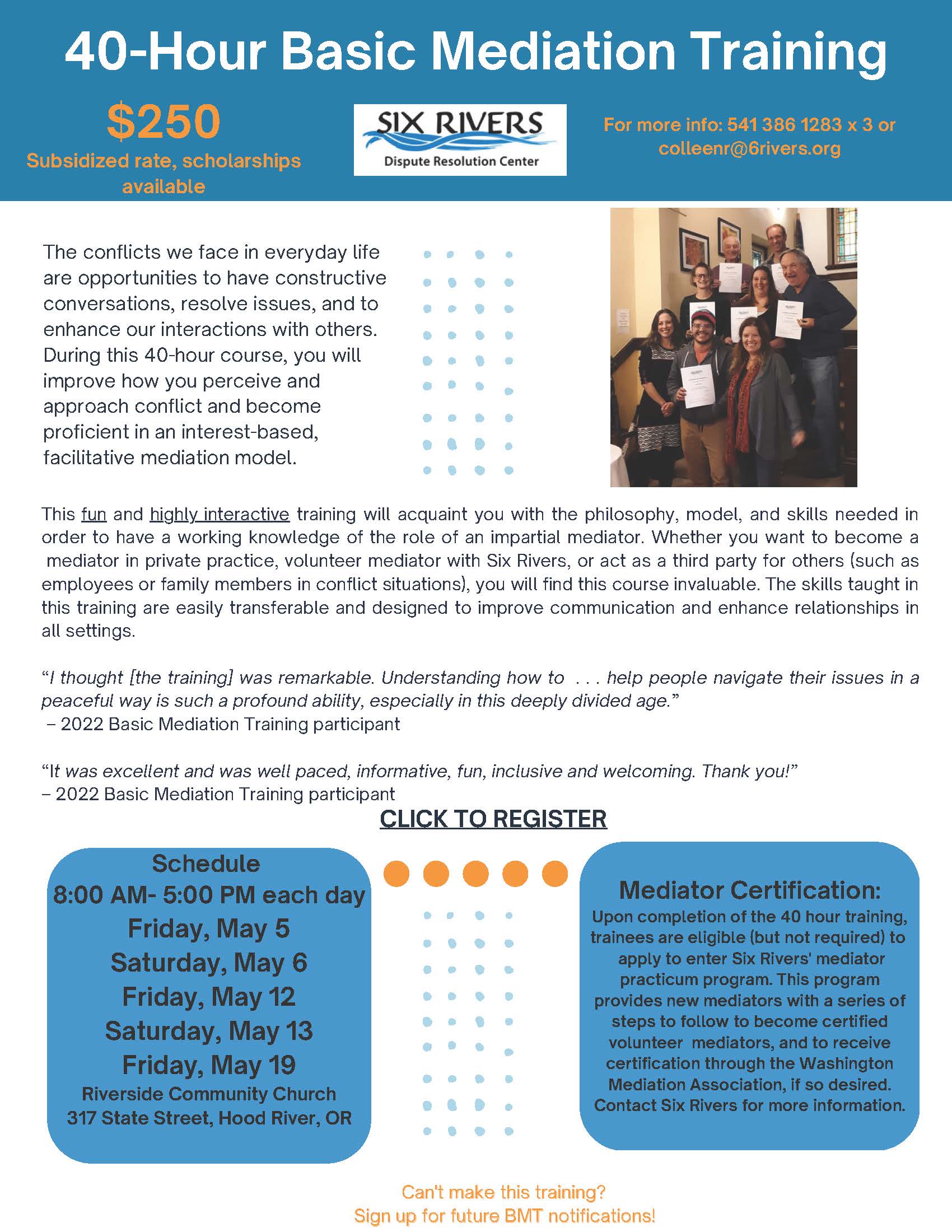 Mediator Certification
Basic Mediation Training (40 hours)
Six Rivers generally offers Basic Mediation Training twice a year, in the spring and fall. Experienced mediators guide students through a series of small group class sessions, role plays and a diverse array of individual and group activities. Six Rivers' Basic Mediation Training is designed to meet the standards for foundational mediation training set by both the Oregon Office for Community Dispute Resolution and Resolution Washington.  Contact us to get on our interest list for the training.
Mediator Certification
Upon completion of Six Rivers' 40 hour Basic Mediation training, trainees may apply to enter Six Rivers' Mediator Practicum Program. There is no charge for participating in the practicum. The practicum provides mediators-in-training with a series of steps to follow to become a certified dispute resolution center mediator. The practicum generally takes about 1-2 years of volunteer time to complete, at a rate of about 5-10 hours a month. The practicum includes, at a minimum: 20 hours of mediation observations, 24 hours of co-mediation and 12 hours of continuing education. Please see Six Rivers' Practicum Flowchart.  Please note that if a group of people are interested in going through the practicum at the same time, it may take some time for each new mediator to complete each step, as Six Rivers is a smaller center with a limited number of appropriate cases for new mediators to observe/co-mediate.
Six Rivers' mediator practicum:
Enables mediators to become certified volunteer mediators with Six Rivers.
Meets the Resolution Washington requirements for mediator practicums.
Is a pre-approved practicum program with the Washington Mediation Association. With a total of 60 hours of mediation experience with Six Rivers, mediators can apply for certification through the Washington Mediation Association. Applicants who have not completed a pre-approved dispute resolution center practicum program need 100-200 hours of experience for WMA certification. (Note that Oregon currently does not have a mediator certification process).
Mediator certification or licensure is not currently required for private practice mediators in Washington or Oregon. However, receiving mediator certification from a dispute resolution center and/or the Washington Mediation Association demonstrates that a mediator has achieved a level of experience and competency.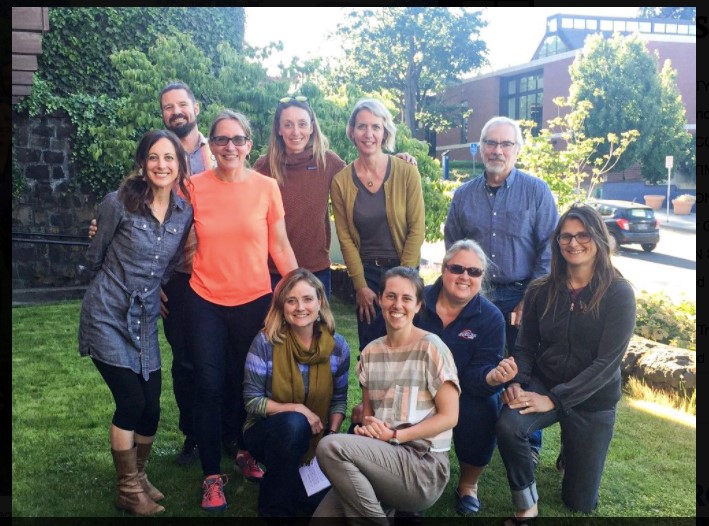 The quality of our lives depends not on whether or not we have conflicts, but on how we respond to them.
Specialized trainings for schools and workplaces are available. Please contact us for more information.