Support Our Work
Your contribution to Six Rivers DRC will help us continue to build more peaceful communities throughout the Columbia River Gorge, as we've done for over 20 years.  With your support and the support of other community members like you, we will continue to help our children, students, families, and community live more peaceful lives with healthy and vibrant relationships.
THANK YOU FOR YOUR SUPPORT! 
You support Six Rivers DRC's work when you…
Contribute financially
Follow us on social media and share our posts
Tell your friends and colleagues about our services
Volunteer
Attend our community events
Promote effective communication wherever you are!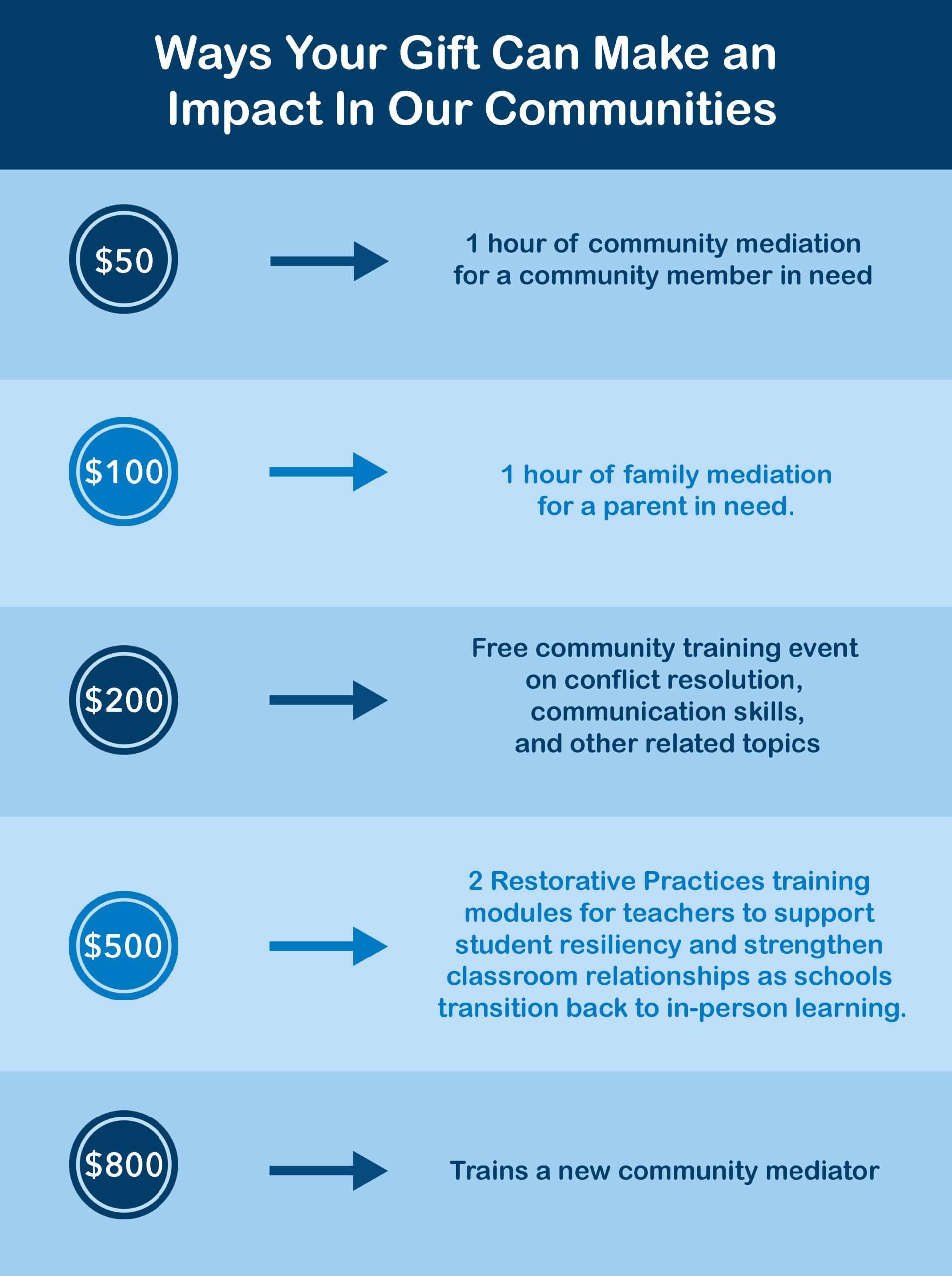 Mediator Continuing Education Series
When: 4th Thursday of each month, during the lunch hour (12:00-1:00)
Where: Zoom
To Attend: please email Lori at
In April: Elder Mediations, Part 1
Please join us Thursday, April 28th, from 12-1, for Elder Mediations, Part 1, with Ona Lawrence.
Six Rivers' early resolution specialist, Ona Lawrence, was part of the National Association for Community Mediation learning community in 2017-18 (when working with at a dispute resolution center in Minnesota). She was one of 5 representatives of community mediation centers from around the nation who came together to create toolkits related to mediating effectively and respectfully with older adults. She will draw upon this experience to share her expertise in the field of elder mediation.
The first edition of Elder Mediation will concentrate on how elder mediation is the same and yet different from all mediation and, very importantly, how ageism plays a role in mediation (as it does in all parts of society), and long term effects ageism has on people as they age.  We will look at typical areas of conflict around care, housing, finances and family conflict.
Tentative Schedule (subject to change)
Thursday, April 28:  Elder mediations, Part 1, with Ona Lawrence
Thursday, May 26:  Domestic Violence 101 with Jennifer Pauletto, DV expert
Thursday, June 23: Domestic Violence in Mediations, Six Rivers' procedures and policies (Report-out from Kitsap DRC DV training), with Colleen Regalbuto and Jennifer Pauletto, DV consultant
Thursday, July 28: Mandatory Reporting with Cal Owens, DHS
Thursday, August 25: Inspiring Young Adults to Use and Access Community Mediation Services, with Colleen Regalbuto and Vanna In (Executive Director of Hope Now in Fresno, CA)
Thursday, September 22: Elder Mediations, Part 2, with Ona Lawrence
Thursday, October 27: Case Development with Laurie Macdonald
Thursday November 24: Thanksgiving, no training
Thursday, December 22: Holidays, no training
Newsletter
If you would like to receive periodic newsletters from us to learn about current events and training opportunities, please signup below