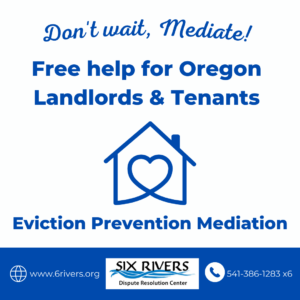 Six Rivers' New Eviction Prevention Mediation Services
Six Rivers offers free Housing Mediation through funding provided by the Oregon legislature.  This program provides mediation and conciliation services to property managers, landlords and tenants throughout the counties of Hood River, Wasco, Sherman, Gilliam and Wheeler.  Find out if these no-cost mediation and conflict resolution services for housing providers and renters might help you — email Michael Reid with Six Rivers at or call 541-386-1283 x6.  Services can be provided in all languages.  Some of the topics we help with include:
Late or missing rent
Pet concerns
Repairs and damages
Additional occupants
Rule violations
Neighbor or roommate complaints
Vacate dates,
And more!
Mediating landlord-tenant issues can help in a lot of ways.  Mediation provides:
Impartial Facilitation, where both landlords and tenants are supported and listened to respectfully, whether in a room together or individually. Mediators serve as neutral guides helping the parties craft their own durable solution to housing conflicts;
Confidentiality, where a safe space is created to empower parties to reach solutions that are comprehensive and lasting; and
Opportunities, where people are invited to participate, listen and share, and where arguments can be recast as opportunities to understand different points of view.
These services are open to people involved in rental housing disputes that arise at any time: before or after eviction filings.  By offering free, compassionate and respectful mediation, Six Rivers gets workable solutions to problems facing landlords and tenants.  If you are wondering whether you might benefit from these services, please call.  We want to help as soon as we can – so we say,
PLEASE DON'T WAIT – MEDIATE!
For more information about how we can help, please email Michael Reid at or call 541-386-1283 x6. Thank you!
Legal Help for Landlords or Tenants
Oregon State Bar Lawyer Referral Service
       503-684-3763 or toll-free in Oregon at 800-452-7636.
Oregon Law Help